It's easy to say hospitality. But what is it really? And why is it so important?
In the tourism sector it is not only a concept: it is an essential value. It means welcome people who have travelled and are far from home and make them feel good. Give them a smile, illustrate the services of the structure that welcomes them, be present to solve any problem, and offer experiences that make their stay simply memorable. For us hospitality and family are one and the same thing, and they are the starting point to enjoy every special moment of a holiday at the Enjoy Garda Hotel.  

The special welcome of a close-knit family
Our family consists of the Verdolin, always with in the world of hospitality and catering, and of a close-knit professional staff. Everyone with the same mission: make Enjoy guests happy. How? In addition to the quality and services of a four-star hotel, it is through our impeccable hospitality that we are remembered. A hospitality made of warmth, kindness, education and availability, which has flowed in our veins since the time of grandfather Ettore and grandmother Bruna, a really important reference point for us.
Enjoy has been our home and our life since 2012: Over the years, we have realised that the right welcome makes all the difference, and that enjoying the present has increasingly become a way of life that belongs to us and that we like to share.
Our life philosophy: Enjoy your moments!
The warm sun, the cool summer wind that refreshes us, the warm fireplace in winter, good food on the table and a glass of wine, the lake water crashing on the rocks, the company of the people we love and relaxation under the umbrella. How many simple but wonderful moments does life give us every day? On holiday, it's one moment of happiness after another.
Enjoy your moments is not only our motto: it is a life philosophy that we follow and want to transmit. It is an invitation we make to our guests to enjoy every moment, to seek joy in the present and the beauty of small pleasures. Here and now, savouring the gifts we have before our eyes is a way of truly living, and discovering that wellbeing can be hidden everywhere: just open your eyes and smile.

Life consists of very rare moments of great intensity and of innumerably many intervals. For many men do not have those moments at all, end up living only the intervals.
Friedrich Nietzsche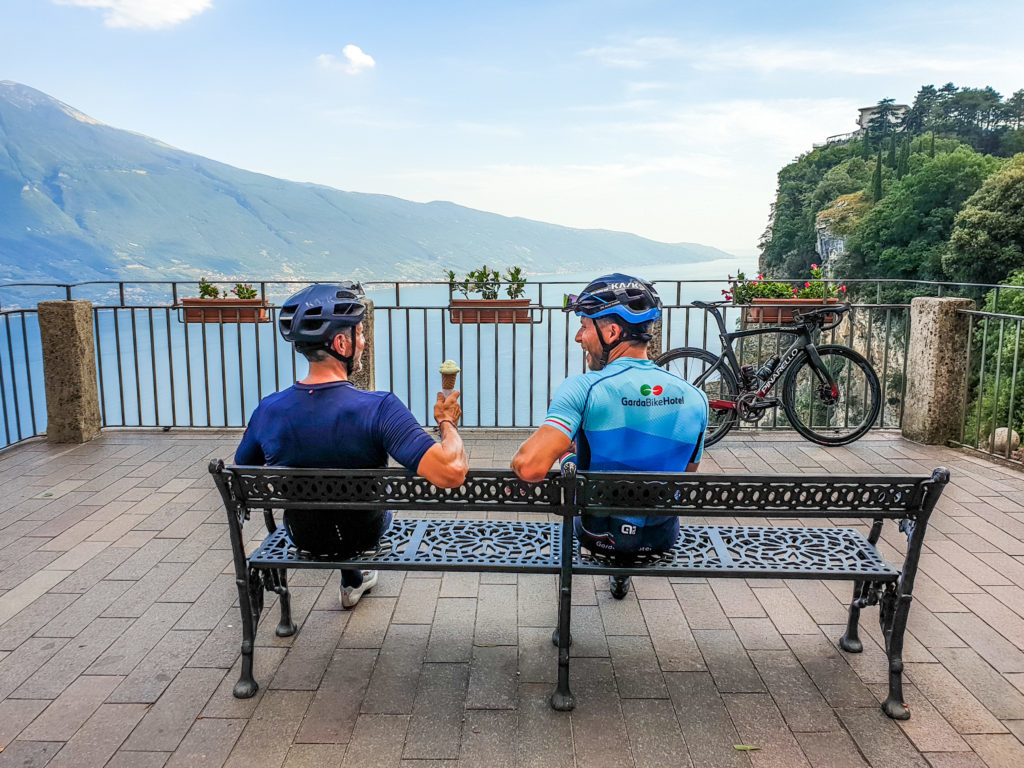 Where we are
Need a "strategically located hotel"? That's us! Enjoy is
3 minutes away from the motorway exit (1km)
5 minutes on foot from the railway station
10 minutes on foot from the historical centre of Peschiera and the shores of the lake
Few kilometres away from Garda's main spas
2 km away from Gardaland and within walking distance of the free bus stop
Within walking distance from the Pederzoli nursing home
How to reach us
We feel it is important to give you all you need to live, know and understand our land, so you can feel at home, part of the family.
Peschiera is a great starting point to visit the three shores of Lake Garda (touching three regions: Veneto, where we are, Lombardy and Trentino), each with typical features, customs, traditional food and wines.
Enjoy Garda Hotel is situated only 1,5 kms away from the motorway A4 Milano-Venezio (exit Peschiera del Garda).
As it is set in a central location, we are only 100 meters far from the town train station Peschiera del Garda.
The closest airport is the Catullo (in Villafranca di Verona).
INFORMATION REQUEST
FILL IN THE FIELDS AND SEND AN INFORMATION REQUEST TO OUR STAFF